In accordance with the Essentials2020 objectives of the Group, Orange Belgium is implementing 5 key strategic priorities to ensure a unique customer experience, both in terms of its service quality and customer-appropriate product range. The company is keen to show that its market-challenger position now extends beyond the mobile phone market for both the residential and business markets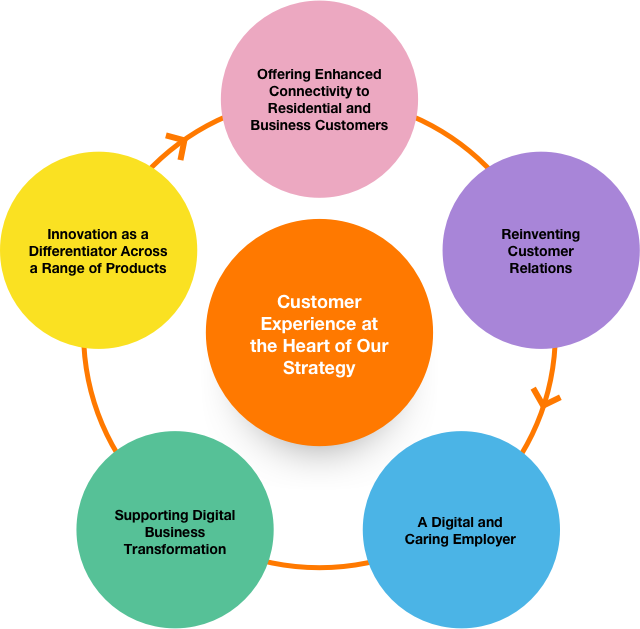 A digital, efficient and responsible company

Orange Belgium wants to shake up the market, for the benefit of consumers and business alike, not just within the mobile phone sector but right across the fixed-mobile network convergence market.
In order to maintain sustainable growth, and to ensure internal cost control, the company will be operating in accordance with 5 strategic priorities.
Offering Enhanced Connectivity to Residential and Business Customers

Orange Belgium intends to offer both business and residential customers the best possible communications experience and provide the best value for Belgian consumers. Optimal connectivity must be maintained, so that users never need worry about whether they have the best available network. They must be able to access all manner of content, anytime, anywhere and from any device. As the only convergent operator leveraging the power of cable connectivity at national level, Orange also intends to enhance its content and service offering, whilst maintaining highly competitive pricing.

Reinventing Customer Relations

Optimising customer relations is at the heart of a major reorganisation programme within the company. A number of internal processes are being reviewed to ultimately enhance the entire Orange Belgium customer experience. The 'Orange Thank You' customer loyalty scheme will be developed and expanded. The company will be using its analysis of big data to better accompany its customers' exponential mobile data usage. While respecting private life strictly , the company will be better able to offer customers appropriate tariffs and apps, whilst maintaining stringent customer data protection standards.

A Digital and Caring Employer

Orange Belgium intends to continue being one of Belgium's best employers. Working at Orange brings the promise of a unique, digital and caring experience, on a par with the experience the company aims to give its customers. Technology is the key to its communications processes, in the form of digital tools enabling an enhanced collective agility which draws on everyone's contributions. It is also attractive in terms of its lateral mobility (offering a variety of posts and roles) as well as vertical mobility, with the prospect of promotion through skills development.

Supporting Digital Business Transformation

On the business market, Orange Belgium intends to support the digital transformation of businesses, well beyond their connectivity management requirements. As a convergent services operator with the backing of multinational group expertise, the business is developing an expanding range of unified communications, cloud applications and connected object technologies which offer targeted solutions to specific problems. To enhance its solutions offering, Orange Belgium has opted for an open innovation approach, as part of an ecosystem of partners specialising in domains matching the needs of its business clients.

Innovation as a Differentiator Across a Range of Products

Orange Belgium will be investing more than ever in developing innovative new products and services both on the mobile and fixed-mobile convergence markets. New mobile and convergent services will soon be available to personal and business customers. Orange Belgium sees its future blossoming with the increasing involvement of an ecosystem of start-ups, resulting from the cross-fertilisation of small yet agile innovative structures with the commercial might of a business with the backing of a major multinational.