Giving everything for those who have nothing
Our mobile phone collection campaign to help Ukraine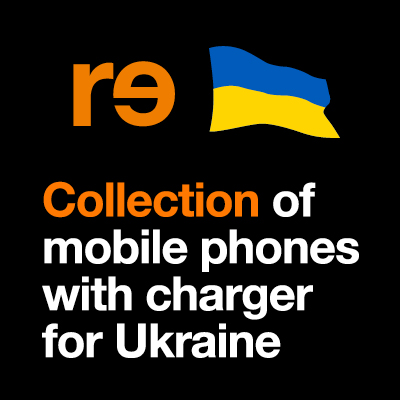 To support people affected by the war in Ukraine, we are launching a major mobile phone (with chargers) collection campaign via our re programme (return, recycle, refurbish, repair). This campaign invites our customers and staff to give a second life to those mobile phones lying half-forgotten in a drawer somewhere.
They will make it possible to support humanitarian organisations and enable families and friends to stay in contact with one another.
We will make sure that the phones are functional and that all personal data is erased.
The collected phones as well as 3,000 external batteries will be delivered directly to Orange Poland.
The campaign is being conducted during April, May and June in our Orange shops and in our offices for our staff.
Our solidarity challenges
For many years, we have organised charity events for different projects. At the end of 2020, after a year marked by months of isolation, our employees mobilised en masse to put a smile back on the face of our seniors. They assembled shoeboxes and filled them with sweets, little useful or funny gifts and a personal message, for distribution in various rest homes across the country.. We also encourage them to participate in athletic events for a good cause. Many of them lace up their running shoes for Run for Parkinson.
And there is also the challenge #OrangeMoves4FoodBanks to share moments of healthy competition and fun between colleagues to give to charity. The more active you are, the more donations the food banks will receive in their kitty! 229 employees thus hiked, pedalled, played, at times perspired, in order to reach the ambitious objective of EUR 10,000 in donations!